OK, it's that time of year; where the season of Fall begins and everyone heads back-to-school. For most females that means refreshing the closet with something old, something new, something borrowed, and something blue. Here is one of my all-time Fall favorites that matches all four categories.
One basic clothing staple that almost never goes out of style and is super versatile is the classic button-down shirt/blouse. The most popular style have sleeves that reach the elbows, a collar, and either a checkered or plaid pattern.
You can wear them as they are
You can unbutton the top and bottom buttons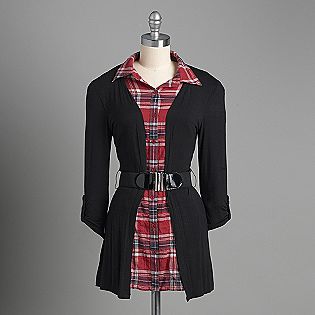 Add a cardigan, cover-up, or jacket over it, depending on the weather.
The thick belt over both shirts is another good option.
You can tuck 'em into your pants and add a belt
For a basic look pair with bootcut or skinny jeans,
your favorite heels or flats, and a handbag.
For a more creative combo is with colored shorts, tights,
ankle booties (which is the current
trend), and large dangly
earrings
For a complete winter look...

Wear an extra long one with leggings, boots, and long necklaces
For a cropped-top look tie the bottom
of the shirt together (but please where a
tank or cami underneath, please).
A graphic tee, converse, homemade jean-shorts
and a beanie are an edgy-but-comfy
look for when
you're taking a weekend off
from studies
And there ya have it! There a bunch more things you can do with a button down shirt. You can find 'em pretty much everywhere. I have grabbed mine for only $15 at Target. Here is what it looks like:
In my two favorite colors?
So there yuh have it! A popular and very wearable clothing item that I just love. It just challenges you to just get creative with it and it works so well with so many things on pretty much everyone! Enjoy. And grab yourself one before Fall is over! Bye, y'all